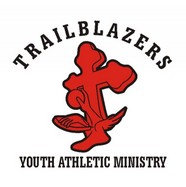 Greetings Trailblazers Parents, Friends, & Athletes, December 1, 2020
The Trailblazers Youth Athletic Ministry, Inc. coaching staff would like to extend a hearty welcome to each of you. As we approach the start of our 2021 Track and Field Season, we want to pass along some information that will assist you with the registration process and the start of our season.
The 2021 season will be our 23rd endeavor since starting the program in 1998. We concluded last season with 10 athletes qualifying for the AAU National Junior Olympics. Since this program's inception, we have witnessed over 39 athletes who have competed at the collegiate level. Our coaching staff is first-rate, and eager to work and train your child for the forthcoming season. Our program has evolved over the years through education, training, and experience. The staff has spent a lot of time evaluating the 2020 season and building a training framework which will allow us to take our athletes to the next level and meet our team objectives.
Our plan for the 2021 season is to run in several track meets throughout the State of Florida. We compete on both the USATF and AAU circuit, with all athletes having a chance to compete and qualify for the USATF or AAU National Junior Olympics. The USATF National Junior Olympics TBD. The AAU National Junior Olympics TBD. Any athlete that qualifies at the District and Regional Championships (USATF and AAU), or the AAU Club National meet (AAU Only) will be eligible to compete at the National Junior Olympic Games.
Conditioning will start each Saturday December 12, 2020. (Sat Only)!!! We will begin official practices on Saturday, February 06, 2012 at Rowlette Park in Tampa. The first 6 weeks will focus primarily on conditioning. Following our conditioning cycle, we will transition to the track TBD (Mon & Wed), and Temple Crest Park (Tues & Thurs) for the remainder of the season. Practices will be held Monday thru Thursday, and Saturday for the conditioning phase from (5:30pm – 7:00pm, Mon – Thur, and 9:00am on Sat). Our track phase will also include Monday thru Thursday practices with an additional weekend run for our distance athletes on non-competitive Saturday's. Distance Athletes and Throwers will have some variation with practice sites to accommodate their specialty and longer runs. In addition, if your resources permit, we are asking all Distance Athletes to invest in a Running Watch. Our training is more science based and managing tempo on our longer runs is very important to the athlete's aerobic development and helps with reducing injuries. We are also asking parents to please invest in a comfortable running shoe for your athlete. Shoes worn during practice should be designed for middle distance running. In addition, please dress appropriately for the weather conditions. We anticipate cooler temperatures for the first few weeks of the conditioning cycle. Last, please make sure that you provide water for your athlete during practice. Hydration is critical to safety and performance. The coaching staff will factor in water and rest breaks through the course of practice. Proper hydration starts at home, not at practice!
We are absolutely delighted in your interest and look forward to working with you and your child. We have a very dedicated staff that is committed to coaching, mentoring, and building character through athletics. This program is a Christian based Ministry. We place a very strong emphasis on God, family, respect, character, and integrity. In closing, we would like to thank you for considering the Trailblazers Youth Athletic Ministry, Inc. for this Track and Field season. We look forward to seeing you in February!
Respectfully,

Trailblazers Youth Athletic Ministry Inc. Coaching Staff
Track & Field Program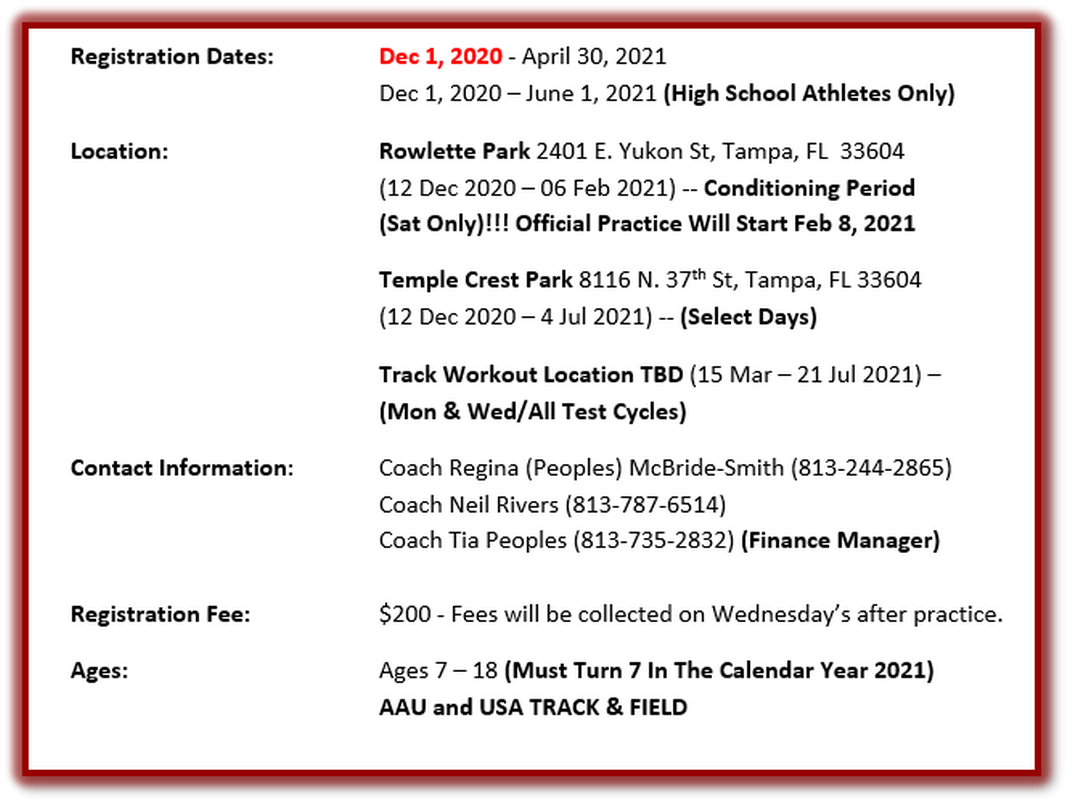 Registration
Please review the fee information that is provided for the 2021 Track and Field season.

"Prepare and provide opportunities for youth to achieve spiritual, athletic and academic enrichment."

OUR PURPOSE:

1. Provide an opportunity for inner city youth to develop spiritually and physically through Track and Field

2. Provide financial assistance to underprivileged youth desiring to compete.

3. Assist youth in enhancing their acdemic achievements by providing a positive environment with knowledgeable mentors to assist youth in their academic development.

4. Foster a safe environment which nurtures, develops and exposes youth to a competitive atmosphere that garners self confidence and self respect.

5. Serve the public interest by allowing maximum participation for anyone who desires to reach their full potential as an athlete, student and individual.